Get ready for a Wild Night Out, a celebration of wildlife through stories on Friday, October 13. Browse below to learn more about the program of this inspiring event.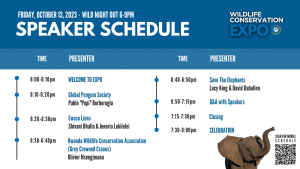 Be Inspired by Wild Presentations
Hear from intrepid conservationists as they take you into the wild world of elephants, lions, penguins, and grey crowned cranes and answer your most engaging conservation questions.
Meet Conservationists from Across the Globe
Whether you're reuniting with your favorites or meeting them for the first time, connect in-person with a global community of conservationists who protect some of our planet's most iconic and endangered wildlife on a night like no other.
Shop from International Artisans
Browse an international marketplace and find unique treasures to take home with you, all while supporting community artisans and conservation programs around the world.
Take a Virtual Safari
Journey into the field during an interactive virtual safari experience across Africa, where you never know what wild discoveries await you.
Celebrate with a Community of Wildlife Lovers
Gather under the stars for a night of drinks, desserts, and discussion with conservationists and fellow members of WCN's community to celebrate the wildlife that we love.
Photography Credit: © Roy Terlien, All rights Reserved, MareCet, Suzi Eszterhas; all rights reserved, (c) Dana Allen www.Photosafari-Africa.Net / Wilderness Safaris